Equipoise Complete Package (Textbook, Tools & DVDs) -- $179.00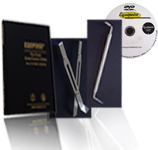 Spectacular Savings!
$238.95 ....now for a limited time only $179.00
To place an order you may call our toll free number : 800-999-4950

We accept VISA, MasterCard and Discover credit cards


EQUIPOISE is a trained science. Call a certified lab near you!